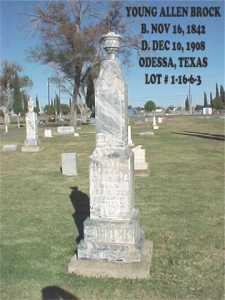 Young Allen Brock was one of the original land owners of Ector County .

His daughter Emma married a man by the name of Jefferson Davis McGee who's brother Robert Dodge McGee settled in what is now Crane County. His home is now designated by the Permian historical society as the oldest home in Crane County.

One of Young Allen's sons was sheriff in the early 1900s and another was Tax Assessor for about 16 years in the early 1900s according to records.

They were here as early as 1896 according to Lawrence Brocks historical data..
Note Head Stone at grave site in Ector County Cemetery.
---
To be continued with more data......

Courtesy: Charlene Beatty Beauchamp, Odessa, TX
[Thank You]
Webmaster
Updated 02/08/2003