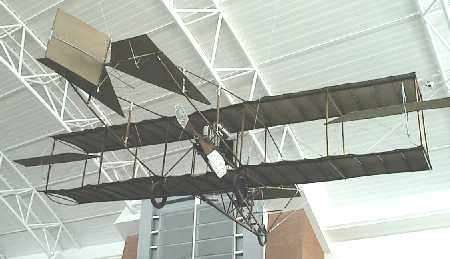 Today you can enjoy viewing Pliska's 1911 hand built Aeroplane now on location in the new Terminal Building; Midland International Airport. This image is from the rear of the Plane! More history in another page of July 4, 1912 Odessa Celebration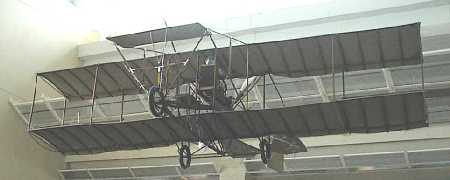 Here is the frontal view showing the position where the pilot is seated infront of the engine. Note specifications repeated in text block below. Don't miss this historical item when visiting the Midland, Odessa area.

---
Wing span: 33.0 feet
Height: 7.5 feet
Length: 26.5 feet
Empty Weight: 750 pounds
Gross Weight: 1050 pounds with pilot and fuel
Power Plant: Roberts Motor Company, Sandusky, Ohio.
The 50 hp., No. 106 motor was actually built before 1910. It is a 4-cylinder 2 cycle motor which used a mixture of 3 pints of oil to every 5 gallons of gasoline.
---
updated: 02/08/2003