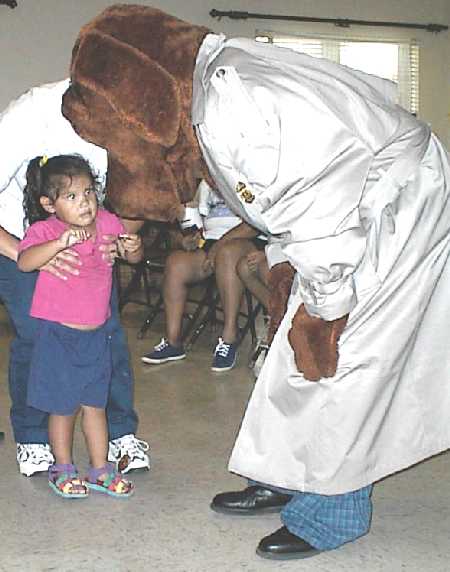 Here is a young lady looking askance at McGruff our Crime Dog!
She was in his arms later; but this first encounter was a little terrifying for a bit. I didn't get her name; but if Mom will contact me I will fill in the details.
We were in the club house on North Whitaker with the Neighborhood Watch party 8/3/1999. Everyone there had a smile on their face and made us feel very Welcome! Tami Gray & Mike Sanchez did a bang up job bring together the neighborhood.
McGruff our Crime Dog visited with lots of his friends. Many of the other locations were hosted by some hard workers who made us feel very welcome. Regret not having more space; I would like to show everyones photo.
This is one of many, activities the Volunteers participate in with the public. You too can be a volunteer. Join the class at the Citizen Police Academy. See application blank.
Webmaster
Updated 02/08/2003