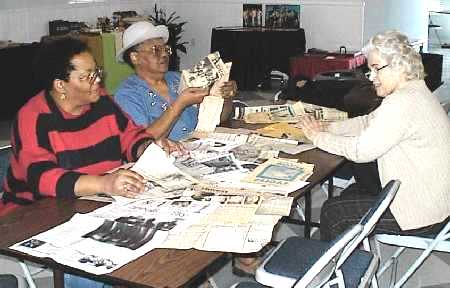 Date February 18, 2000.
In the large room at Gertrude Bruce Cultural Center we observe a serious discussion.
Left to Right: Shelia Collins, Miltrue Collins, and Lorraine Harrison going over some newspapers clippings from the Harrison Data Base. Lorraine Harrison has contributed to our historical pages many times. Looks like a lot of historical items to view and decisions to be made.

---
Mrs. Harrison passed along the following info from the book: "Odessa: City of Dreams" by Velma Barrett and Hazel Oliver.
Education: History
1888 or 1889 First school in Odessa was a private one taught by J.W. Amburgey - 28 students.
1891 First public school taught by Mrs. E.R. Bryan - 35 pupils.
1911 First graduation from Odessa High School
1925 Murry Fly became superintendent of Ector County Schools.
He came from Bogata, Texas.
There were 141 pupils enrolled.
1927 There were 5 Negro families in Odessa.
1944 A branch library was started for the Negroes, with Mrs. Gertrude Bruce as librarian. The Carter G. Woodson unit of library service moved from its old location at the rear of the Douglas Elementary School into the new, enlarged quarters in the Negro community building, 1020 East Murphy Street, August 1951. Its circulation reached an average of 1500 a month.
1949 Murry Fly became president of the Odessa College which included 2 years of accredited college work.
1951 Odessa College offered 75 courses for 435 students. There were 24 full time and 6 part time teachers. Extension courses were for Negroes and it was under consideration to have colored students in its regular classes. There were ample parks for family recreation, a county auditorium. Ector County provided a community building in Penwell, in Goldsmith, and one for the Negroes.
1950-51 school term: There were 325 colored pupils, 2 schools for them.
1951 Racial distribution in Odessa Was:
Anglo American 90%
Latin American 04%
Negro 06%
---
Webmaster
Updated 02/08/2003