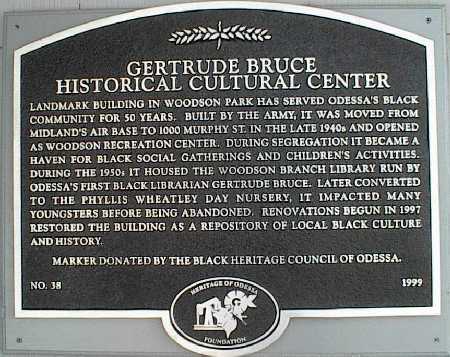 Date February 18, 2000.
Gertrude Bruce Historical Cultural Center

Landmark building in Woodson Park has served Odessa's black community for 50 years.
Built by the army. It was moved from Midland's Air Base to 1020 Murphy Street in the late 1940's and opened as Woodson Recreation Center. During segregation it became a haven for black social gatherings and children's activities.
During the 1950's it housed the Woodson Branch Library run by Odessa's first black librarian Gertrude Bruce. Later converted to the Phyllis Wheatley Day Nursery, it impacted many youngsters before being abandoned.

Renovations begun in 1997 restored the building as a repository of local black culture and history.
Webmaster
Updated 02/08/2003