Fred Douglass Elementary School.
Photograph from album in Gertrude Bruce Center of Fred Douglass Public School.
Estimate date in the 1950's; located: 314 South Muskingum Ave.
Historical Marker at the site now reads as follows
FIRST CLASSES ESTABLISHED IN 1934 FOR SIXTEEN STUDENTS. ELLA D. SALES TAUGHT GRADES 1-7 IN ONE ROOM BUILDING AT S. MUSKINGUM, MYRTLE STREETS. ENROLLMENT GREW RAPIDLY TO 93 STUDENTS BY 1939 WHEN FRANK EVERETT WAS PRINCIPAL. UPPER GRADES, FOUR NEW CLASSROOMS ADDED BY 1948. STUDENTS EXCELLED IN ACADEMIC, SPORTS COMPETITIONS. GRADES SPLIT NOVEMBER 15, 1948 WHEN MODERN BLACKSHEAR HIGH WAS BUILT ON 20.7 ACRES BETWEEN E. MURPHY, MIDWAY AND MORNINGNSIDE STREETS. R.W. WHITE BECAME FIRST PRINCIPAL. FRED DOUGLASS ELEMENTARY AND COUNTY LIBRARY FOR NEGROES REMAINED IN ORIGINAL BUILDING WITH EDWARD K. DOWNING AS PRINCIPAL. EARLY SCHOOLS ESTABLISHED PROUD EDUCATIONAL LEGACY FOR ODESSA'S AFRICAN-AMERICAN CITIZENS.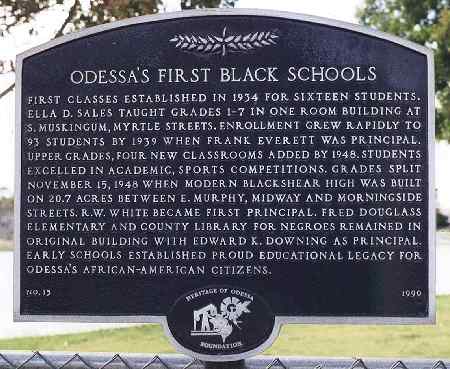 This Historical Marker stands where Douglass School was located.
Webmaster
Updated 02/08/2003