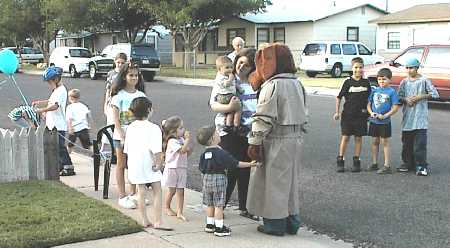 It's August 3rd 1999, location: North Lancaster Street Neighborhood Watch Party!
We only visited half of the parties; but this was the largest enthusiastic group we encountered. Steve & Cindy White along with David & Cindy Sandefur were a double combination group leaders. I was 52 on the guest list; so they had a good participation in the neighborhood. Congrats on the activity!
McGruff our crime dog certainly generated lots of grins and smiles. McGruff; You are All Right!
This is one of many, activities the Volunteers participate in with the public. You too can be a volunteer. Join the class at the Citizen Police Academy. See our application blank.
Webmaster
Updated 02/08/2003